We had 1 hour in transit before heading to board the next flight. We took the long walk down to security with me holding all the carryon bags while the Mrs was holding Junior who conveniently passed out during landing. Security took 10 minutes and we took the elevator right up the lounge.
As we landed around noon local time, the concourse and lounge was deserted. We snagged empty loungers and took turns to shower while Junior continued to snooze.
While I showered, Junior woke up and Mrs.I changed him out to summer gear. We then made our way to the gate for boarding.
The ride to BOM which was supposed to be the 200LR variant with the new business class. Was bummed to get the old 300ER business class. EK just TG-ed me.
Pink bubbles this time.
Lunch menu. The cabin crew member taking orders on my side of the plane totally forgot me as I was in the washroom at time. Mid way through service, I had to flag her down to place a choice.
Pushback and taxi onto runway 30R.
Be back in a few weeks, DXB.
I wanted to go with the Mixed grill for lunch but since it was out, I went with the Lamb ragout and it turned out to be a tasty meal.
Wrapping up with the Kala Jamun for dessert which was phenomenal. Never seen a mango cream filling inside and it really hit the spot. Convinced that DXB catering is better than outstation catering.
The flight was uneventful and we arrived at BOM with nothing exciting to report.
Taxi-ed to the gate in 5 minutes and off the plane to take the loooooong walk to immigration. Took us a total of 30 minutes from debarking to jumping into the limo which is amazing for BOM.
Our chauffeurs were waiting outside door B and funny enough, they had a sign with Junior's name on it. EK has done away with the Merc C-class limos they used and has outsourced to Blacklane. We rode in the BMW while our luggage was sent in the van.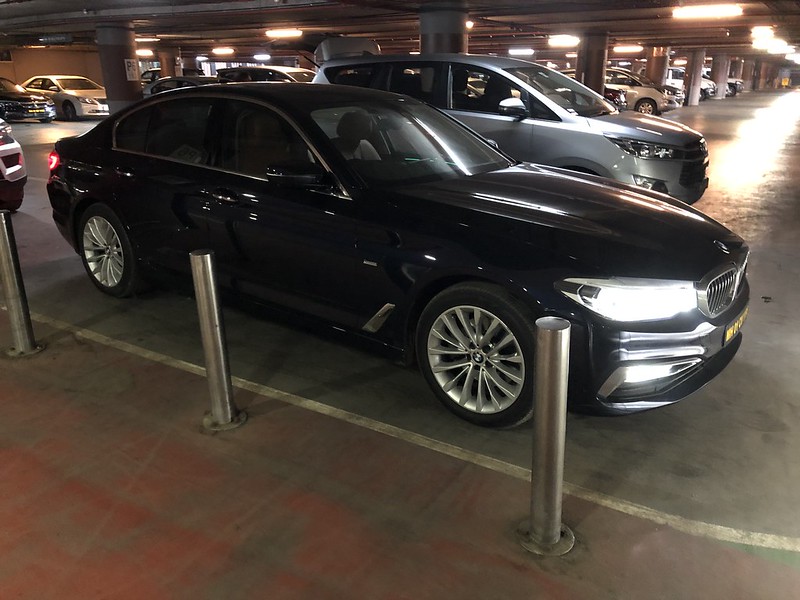 Next up – 3 days in Mumbai.