The grand finale to an amazing trip. The flight was originally scheduled to leave at 9am but was then pushed back to 11am. This would eventually shorten our time in DC and we would end up not doing any tours. Back to the good stuff.
We checked out at 7am and we were on our way AUH.
We pulled up to the First Class door to find it closed and we had to enter the Business Class entrance.
Business class check in on the right and First class on the left.
There were 2 check in agents staffed to help FC passengers and they were already helping others when we arrived. It was a 5 minute wait before we were helped.
After the formalities were done, we went through immigration and security and then passed into the main hall.
Once we processed the VAT returns, we headed to the FC lounge.
The staff member at the front door scanned our BP's and directed us to use the elevator.
Dining area.
The bar but too early for a pick me up.
We settled in at a table for breakfast.
Eggs benny for me and an omelette for her.
After breakfast, we settled in the back corner and killed time until an announcement was made that the flight to DC was 'pre-boarding'.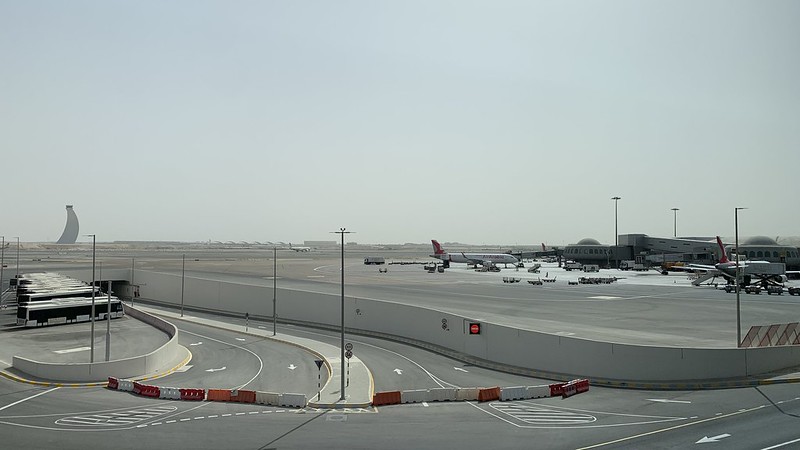 We headed towards gate 61 and then made a left into the US customs and security area – thank goodness for pre clearance and Global Entry. After that, we continued on to the gate.
Boo – was closed.
Boarding just started as we approached the gate area and we made our way onto the plane.
The cabin crew member at door 2L could not leave his post to escort us to our seats but directed us to turn left.
1A for me and 2A for her.
Mariam came by and welcomed us onboard and asked if we would like anything to drink.
Never too early for bubbly.
Let's go through the menu.
Mariam came by and offered some arabic coffee with dates.
There was a bit of a delay pushing back but we were eventually under way.
Qantas A380 parked wayyyy in the back.
Lining up on runway 31L.
Peace out AUH.
Bubbly round 2.
Served with peppers, olives and warm nuts.
Mariam came back around 12:30pm AUH time and took orders for lunch. While they prepared lunch, I went to change into PJ's.
Excellent color scheme for the washroom.
Time to stuff our faces. Mariam came by with a bread selection and I asked if they had garlic bread. She said no but came back later with a plate of it. Awesome.
Caviar for me and Mezze for her. Who else only has caviar when travelling in FC? *raises hand*
Next up for me was the Shorbat Deyay – warmed the soul.
Also some smoked salmon.
Lemon sorbet to cleanse the palate.
Main course – Lamb Thareed for her and Chicken Breast for me.
Lunch with a view.
Finally, Date & Fig pudding and ice cream.
Mariam cleared away everything afterwards and converted our seats into beds.
Closed suite.
House of Gucci before falling asleep.
Two hours before landing, I requested another meal.
OJ to start.
Steak sammich (so good), potato gratin and mushroom sauce for dipping.
Saffron milk cake which was absolutely phenomenal.
The captain came on and announced we had begun the descent into DC.
We had to do a go around due to operational reasons but circled quickly and hit terra firma pretty hard on the second go.
Medical crew waiting for our plane as there was an emergency during the flight.
What an amazing flight – 14 hours of absolute bliss. Definitely ranks up there with CX and SQ FC flights.